Did you miss this news?
On 11th January, 2014 the Old Town in Shangri-La (China) burnt down. This is definitely a set-back for us. Not only has our office burnt down but all our business documents were located there at the time! Add to this the fact that we are very much dependant upon tourists for our business – who now find Shangri-La with fewer attractions and much fewer places to stay – and we face serious challenges for 2014.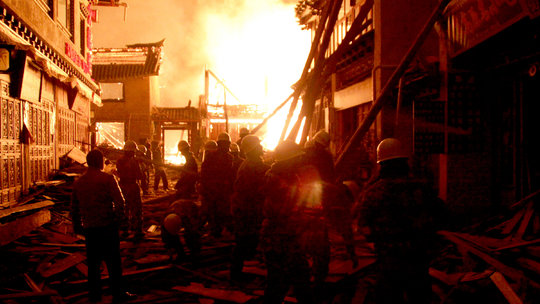 This portrays a very negative outlook for our business – and rightly so. However we don't view being stationed in Shangri-La as a sprint – we view it as a marathon. Or to provide another visual, in a boxing match both fighters get hit multiple times. It is the fighter who perseveres and remains focused that prevails. Soon we will begin raising some funds for beginning again. If the Lord shows us His favour then we will see the business rise up from the ashes and live again!
Our loss however is minimal compared to many many others. Close friends, both local and foreign, have poured in much more resources and will have a vastly more difficult time restarting their businesses and lives here. Please join us in prayer for them, for the Lord's grace, mercy, and favour to be upon them.
Finally please note that our family is back in Singapore for a few months. My wife is VERY pregnant and we expect the birth of our second child in the beginning of March. We are of course quite excited! I (Richard) plan to first return to China in early May, followed by the rest of the family during mid or late June.